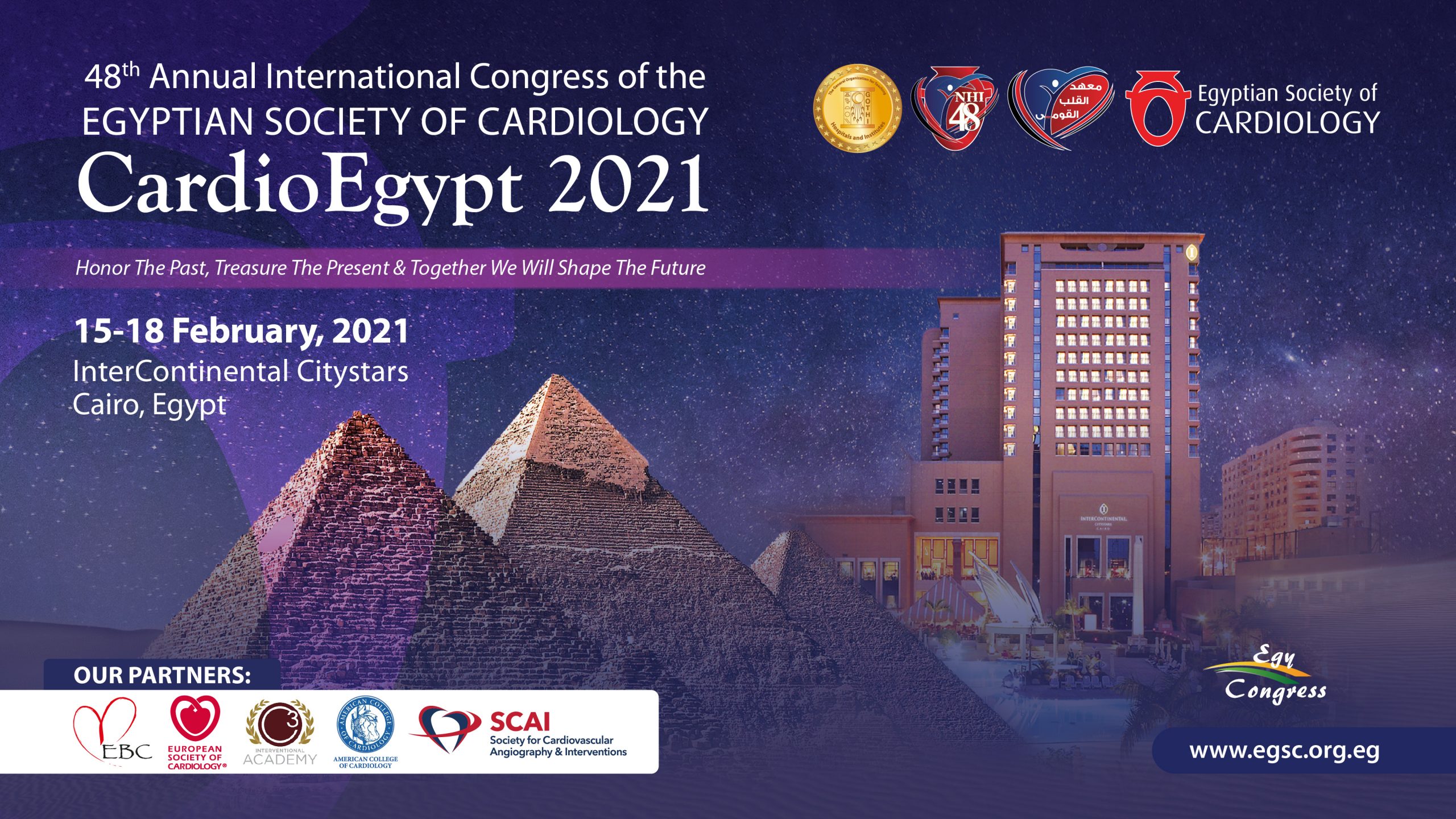 CardioEgypt 2021
---
The Egyptian Society of Cardiology & The National Heart institute are honored to invite you to attend & participate in the 48th Annual International Congress of the Egyptian Society of Cardiology "CardioEgypt 2021", the largest and most comprehensive Annual Cardiovascular Meeting in Egypt, North Africa and the entire Middle East. it will be held from the 15th to the 18th of February 2021 at the fancy Intercontinental city stars hotel, Cairo- Egypt.
The scientific program has been crafted to include all the ingredients for this congress to achieve great success. It will highlight the topics concerning diagnosis, treatment, and management of cardiovascular diseases, through a variety of exciting scientific sessions, live transmissions, live cases, workshops, and lectures by professionals and experts. The Scientific Agenda will be the region's largest, having over 120 sessions that will hugely contribute to the continuous medical education in the field of cardiovascular diseases.
The program will include all aspects of Cardiology from diagnosis to prognosis. These aspects will be presented and discussed by the most eminent world experts in the field of Clinical Cardiology, Cardiac Imaging and Interventional Cardiology through real time transmission of difficult Cardiovascular intervention techniques, allowing discussion between medical colleagues.
The Tech-nurse sessions will take place on Thursday 18th of February, with sessions dedicated to their role during different coronary and structural heart disease interventions and inside the CCU.
Abstracts sessions either orally presented or moderated poster sessions will be judged by experts from all over the world. The best abstract in each subspecialty will be awarded in either investigators or young investigators contest.
CardioEgypt 2021 is an opportunity to learn and share experiences, novel hands-on techniques, the latest guidelines, clinical trials results and the most recent achievements and innovations in Cardiology.
CardioEgypt 2021 will build the solid foundation of a congress which attracts worldwide cardiology leaders to present and exchange their knowledge, ideas and significant findings. It will focus on the latest updates. Not only this but also it will emphasize the importance of innovation in order to shape a better future.
CardioEgypt 2021 will continue to build a higher educational value seeking greater engagement, increasing individual involvement and interactivity. As the home for the regional Cardiovascular community, the congress highlights the ongoing positive outcome of innovation advances in technology updates on best practice and guidelines as well as cutting edge techniques in the field.
The fight against Cardiovascular disease is a shard mission in Which you are our partners. We welcome you to join us this effort to raise global standards in the prevention, diagnosis, and treatment of Cardiovascular disease.